The 24th Fukui Cosmos Festival
On October 14th, 2018, the 24th annual Fukui Cosmos Festival was held in the cosmos fields in Miyanoshita District in Fukui City. One hundred million cosmoses are blooming in the vast area of 17.5 ha. At the festival, live performance and releasing balloons were also held. Food stands were crowded with visitors and they enjoyed the festival in their own way. I took the "Cosmos tractor", which a pink colored tractor towed a cart to go around the cosmos fields, and took the video.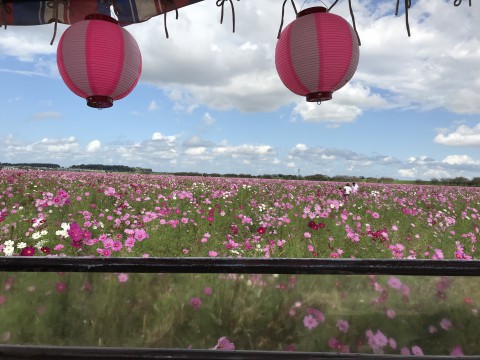 The cosmos fields from the cosmos tractor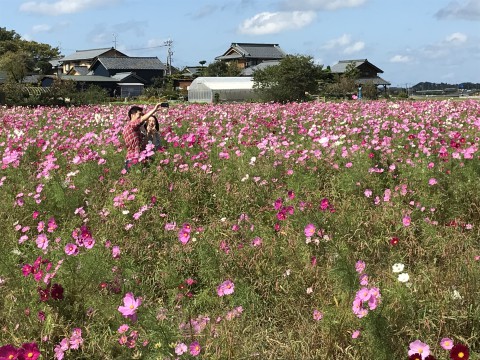 It's instagrammable.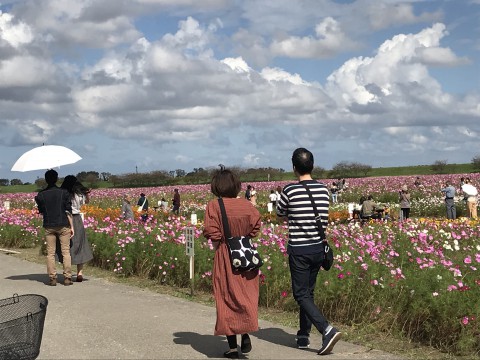 The visitors enjoy strolling in the cosmos fields.
Remarks:
Q: Why did they start cosmos growing as landscape plants in the Miyanoshita District?
A: At first, they considered sunflower and field mustard like other districts.
However, yellow color tries the eyes. On the other hand, the color of cosmos is gentle and a cosmos maze which they made before was popular, so they started to grow cosmos.
After they died down, they become fertilizer, so no mowing is necessary.
Q: What is the difficult part in the cosmos fields?
A: It is weeding. It takes twenty people and it is constantly done.