[Fukui] Echizen Washi Village - Goddess of paper, Okamoto-jinja Shrine and Otaki-jinja Shrine[UHD4K]
*It is reprinted with permission from inoue1024, who has uploaded a lot of beautiful landscape videos mostly in Toyama Prefecture.
---
Okamoto-jinja Shrine, which stands in Otaki-cho, Echizen City, Fukui Prefecture is the only shrine in Japan that worships the goddess of paper.
The establishment of the shrine dates back to 1,500 years ago.
A beautiful princess appeared upstream along the Okamoto River in Echizen City and taught papermaking skills to the villagers in the local area. Since then, the princess, "Kawakami Gozen" (upriver princess) has been worshiped as the goddess of paper at the shrine and it has been worshiped by people who are in the Japanese paper industry.
In the following history, Okamoto-jinja Shrine became an auxiliary shrine of Otaki-jinja Shrine, so it is now called Otaki-jinja Shrine and Okamoto-jinja Shrine.
Inoue 1024 created a beautiful 4K video of the scenery of the Okamoto-jinja Shrine.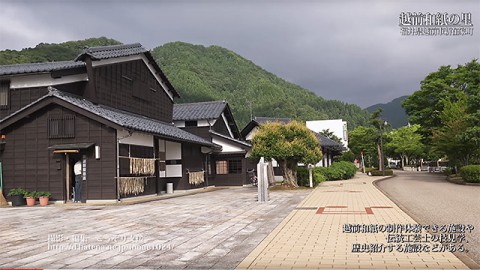 Echizen Washi (Japanese paper made in Fukui) Village is the place where visitors can learn about the Japanese paper, and this area is still a major production one of the Japanese paper today.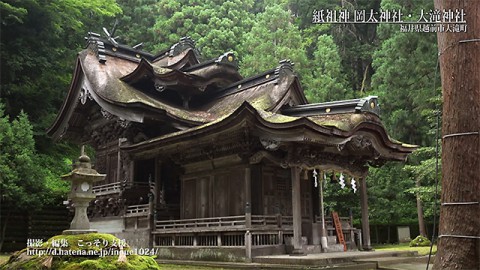 The main hall (Shimonomiya main hall) with complicated roofs has been designated as a National Important Cultural Property.
Glossary