Exhibition of sake cups at Fukui Kougeisha Craft Gallery, January 18th-February 10th, 2019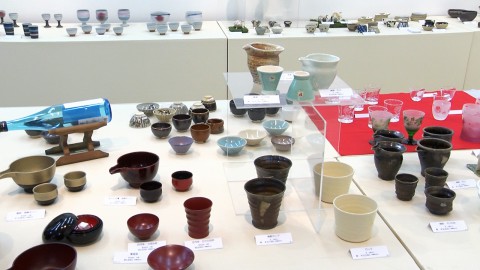 The exhibition of sake cups has been held from January 18th to February 10th, 2019 at Fukui Kougeisha Craft Gallery. The exhibits are made by the artists from Fukui Prefecture.
There are various sake cups exhibited by 13 artists and 3 studios from the fields of cloisonne, pottery, glassware and lacquerware.
It's enjoyable just to look at them, and it's even more enjoyable to feel the weight and texture inside and out of each exhibit by touching them.
Exhibitors
Cloinonne: Michiyo Yamamura
Pottery: Yukari Mouri
Pottery: Nobuyasu Kondo
Pottery: Nobuyasu Ito
Pottery: Sanae Kondo
Pottery: Toyokazu Yoshida
Pottery: Yoshihiro Kimura
Pottery: Yuji Sato
Pottery: Yoshio Maeda
Pottery: Masato Omori
Pottery: Koji Fukushima
Pottery: Yuki Yoshida
Lacquerware: Nakano Co., Ltd
Glassware: Yoshitaka Tajima
Glassware: EZRA GLASS STUDIO
Glassware: Ichikawa Glass Factory